Andrew Sykes, Founder & CEO of Habits at Work – Creating Successful Culture
Kristen Prinz & Andrew Sykes
Kristen Prinz talks with Andrew Sykes, Founder & CEO of Habits at Work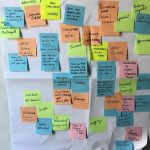 In this episode, Kristen Prinz talks with Andrew Sykes, Founder & CEO of Habits at Work. Kristen and Andrew share insights and stories in discussing how workplace habits can create an engaged and successful culture.
What steps are you taking to create healthy and productive workplace habits?
Check out Andrew's company, Habits at Work, to learn more about workplace habits and book a workshop for your team. http://habitsatwork.com/context-design-workshops/
The Tales from Around the Water Cooler Podcast was inspired by both experience working with employees/employers in a professional capacity as a business law firm as well as our personal experience as entrepreneurs hiring/firing employees.  This podcast was designed to be both educational and entertaining.  Please leave us feedback or ask questions if you have a employer/employee horror story you would like to share!