ATWC EP2 – Emily Lonigro of LimeRed Studio – Empowering employees and building a Certified B Corp
Emily Lonigro
Employment horror stories, horrifying tales of employees/employers, negative/positive company culture. Lessons learned as an employer.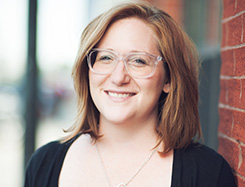 In this episode of "Tales from Around the Water Cooler":
Hiring the perfect match –
Empowering employees –
Letting go
Certified B Corp
Kristen Prinz interviews Emily Lonigro, president and owner of LimeRed Studio, a UX Agency that is both B Corp. & WBE certified. Emily touches on her journey of empowering her employees and building a Certified B Corp company culture.  Emily gives tips to Hire a perfect match, personality test and so much more!
Certified B Corp, company culture, empowering employees, employee loyalty, finding the perfect employee match.