"Behind the Mic" with Kristin Prinz
Kristen Prinz & Matthew Tedeschi
Kristen Prinz discusses her personal and professional path to becoming an established attorney and small business owner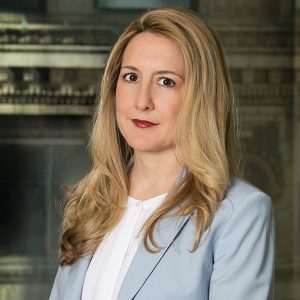 In this episode of "Tales from Around the Water Cooler":
In this episode, we go "behind the mic" with Kristen Prinz to discuss her personal and professional path to becoming an established attorney and small business owner. The firm's legal assistant Matt takes us on a blast to the past to learn of Kristen's high school habits, what led her to law school, and why she entered employment and business law. Starting from an office in "a windowless closet," Kristen explains how she grew her business and became a boss. Along the way, Kristen sheds light on workplace culture in the legal field, the importance of bringing one's values to work, and the path to accomplishing a healthier work-life balance.
The Tales from Around the Water Cooler Podcast was inspired by both experience working with employees/employers in a professional capacity as a business law firm as well as our personal experience as entrepreneurs hiring/firing employees.  This podcast was designed to be both educational and entertaining.  Please leave us feedback or ask questions if you have a employer/employee horror story you would like to share!