Shadin focuses on building relationships for the long run and receives great personal satisfaction from serving the needs of the clients

Kristen Prinz & Shadin Maali
Shadin believes that proper cultural fit in a work environment is critical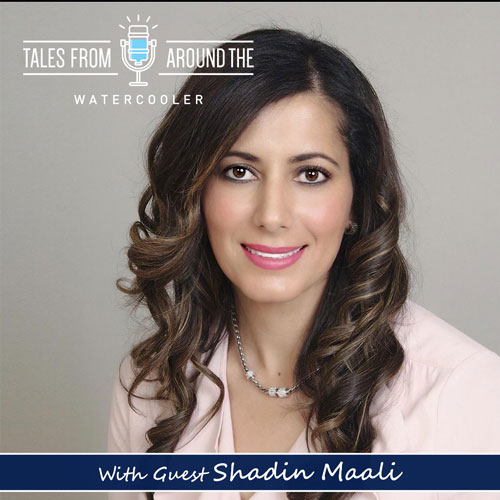 In this episode of "Tales from Around the Water Cooler":
Tune in to hear Kristen share the mic with Shadin Maali, Principal in Allen Austin/Gaines International's executive search practice, where she focuses on the architecture, engineering and construction sectors. Shadin shares her views on how women bring particular strengths to the relationship-building facet of search and how search is navigating the market's current talent squeeze. One of her favorite concepts encountered on the job is "empathetic design" and how it is informing the construction of spaces from the office to prison. Kristen highlights Shadin's first run for political office and how being a diverse candidate impacted the campaign. They close by predicting that the future of search will involve more data-driven insights, while never letting go of the unique human factor that characterizes the best professional connectors in the search industry.
Bio.
Shadin Maali is a Principal in Allen Austin/Gaines International's Architecture, Engineering and Construction practice. Shadin started her search career at Gaines International after college and eventually became Research Manager. She led a driven research team to find talented candidates in creative and non-conventional ways.  Shadin was involved in various aspects of the search process and deeply values the impact that the search business has on the candidate-client relationship. She believes that the search industry has profound and long-lasting implications on employers and employees that transcend the work environment and impact personal growth and fulfillment as well as global productivity and efficiency.  It is this purpose that fuels Shadin's desire to make the best possible match for her clients and talented professionals for true career satisfaction and long-term employee retention for employers.
Prior to rejoining Gaines, Shadin's work experience in the education, healthcare and not-for-profit market sectors helped to give her invaluable knowledge and insight into the unique and distinct work cultures of organizations.  She believes that proper cultural fit is just as important as the job specifications and qualifications of the individual in the work environment.  Shadin focuses on building relationships for the long run and receives great personal satisfaction from serving the needs of the clients.
Media (social media platforms you would like show notes to link to):
Executive Search News: https://executivesearchnews.dillistone.com/post/102f4j6/shadin-maali-returns-to-executive-search-firm-gaines-international
Shadin's article on running for office and recruitment: https://www.linkedin.com/pulse/running-office-talent-acquisition-two-sides-same-coin-shadin-maali/
The Tales from Around the Water Cooler Podcast was inspired by both experience working with employees/employers in a professional capacity as a business law firm as well as our personal experience as entrepreneurs hiring/firing employees.  This podcast was designed to be both educational and entertaining.  Please leave us feedback or ask questions if you have a employer/employee horror story you would like to share!