Kristen welcomes dentist Dr. Anushka Gaglani, co-owner of TruBlue Dentistry, to the show to discuss returning to work post-quarantine

Kristen Prinz & Dr. Anushka Gaglani
Anushka and Kristen discuss the importance of prioritizing the safety of patients and employees during COVID-19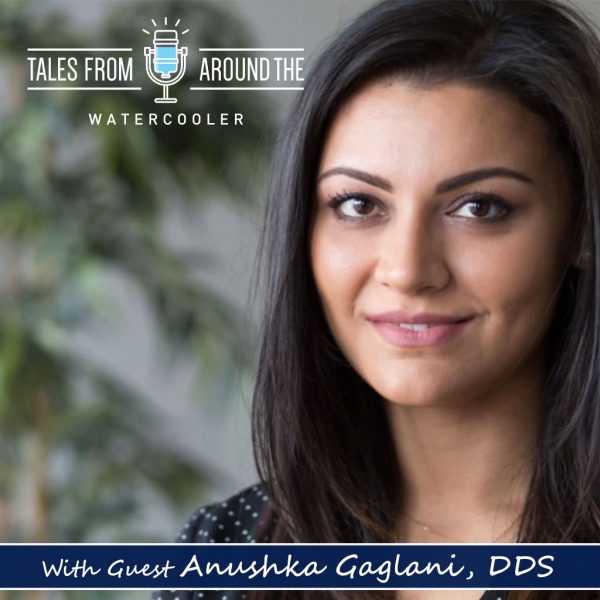 In this episode of "Tales from Around the Water Cooler":
Kristen welcomes dentist Dr. Anushka Gaglani, co-owner of TruBlue Dentistry, to the show to discuss returning to work post-quarantine. They explore the anxiety felt by employees, employers, and the general public about returning to business as "usual" as well as the measures businesses are taking to ensure safety. Some dentists' offices and other clinics are implementing staggered appointments, temperature checks at the door, and requirements that patients fill out wellness forms before their appointments to help their businesses function safely and effectively. Anushka and Kristen discuss the importance of prioritizing the safety of patients and employees, especially those who are immunocompromised or otherwise at risk of contracting COVID-19.
Bio:
Dr. Anushka Gaglani graduated from the University of Illinois at Chicago College of Dentistry. She practices all aspects of general dentistry, including root canals, wisdom teeth extractions, fillings, and cosmetic dentistry. She truly cares about what patients want and goes above and beyond to make them feel comfortable and cared for. She treats children and adults of all ages and believes that great smiles contribute to a great life.
Dr. Gaglani is a member of:
The American Dental Association
The American Academy of General Dentistry
The Illinois State Dental Society
The Chicago Dental Society
Dr. Gaglani practices at TruBlu Dentistry, which conveniently offers three locations in Burbank, Chicago, and Hegewisch, IL.
Stay Connected with Dr. Gaglani:
The Tales from Around the Water Cooler Podcast was inspired by both experience working with employees/employers in a professional capacity as a business law firm as well as our personal experience as entrepreneurs hiring/firing employees.  This podcast was designed to be both educational and entertaining.  Please leave us feedback or ask questions if you have a employer/employee horror story you would like to share!